Voilà un album de pure G-Fuuuuuuunk!!!
ackadelics est un groupe formé par DJ Aladdin(low profile), Tweed Cadillac(penthouse players clique) & B-Low 0, ils sortent "Exposed to the Game" en 96 sur le label Black Jam, et produit en entier par Dj Aladdin.
Malheuresement comme beaucoup ce sera le seul album du groupe; mais bon quel album! C'est une boucherie complète grace à des samples magiques
Enfin pour moi c'est un gros classic G-Funk!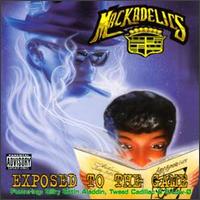 01. Pimptro [Insert]
02. Power Of A Playa
03. Bank-N-Corners
04. Devil's Dope
05. On A Ride
http://www.megaupload.com/fr/?d=5DBDT6AN
06. Hustlin
07. P.I. Convo
08. The Mackadelics
09. Are U Ready?
10. Lush-N-Lavish
11. Tweed Cadillac Bar
12. Gotta Be Fly
http://www.megaupload.com/fr/?d=YDNDOJ9U
13. Like This
14. Man In The Mirror
15. Stack-N-Mack-N
16. Voodoo
17. How Many
18. Devil Made Me Do It
19. From Tha Ghetto
20. (I Wanna) Spend the Night With U
21. Between Tha Sheets